This is just a lil thank you to all of the friends I've made working at Family Guy over the past 2 years. I'm going to miss you sons of bitches but don't worry, I'll see you at the top! If I forgot anybody, please blame my head and not my heart. So, here we go...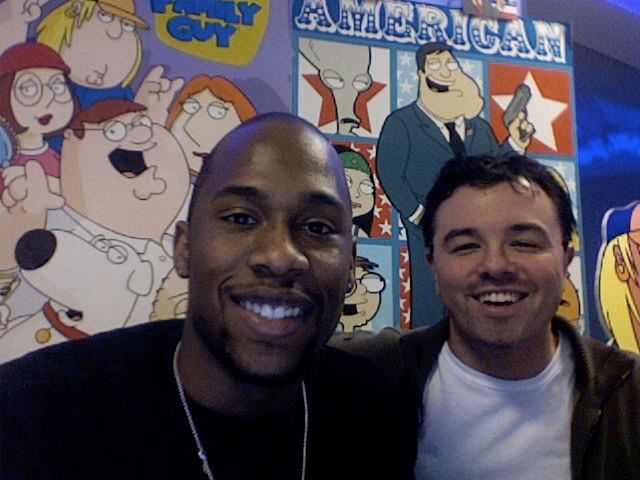 SETH MACFARLANE: I very rarely throw this term out because I think it is waaaay too overused, but this man is a pure genius. Every aspect of why Family Guy is successful, is because of this man. He probably doesn't know it, but I've learned so much just by watching him. And much more than that, I consider him a good friend.
CHRIS: If I were white, I'd probably want to be him. A very successful and down-to-earth guy that took time to take me under his wing and show me the ropes. Be on the lookout for the J Lee 1 man show coming to you later this year courtesy of Chris and ...
KIRKER: Believes that I could be one of the biggest names in the land. Kirker is a cool cat that will tell you how it is. This J Lee show might just turn into a lil sumn sumn afterall. I have also been informed that I need to get famous so I can help put his kid(s) through college.
ALEC: Sulk Dog! Man, this guy right here was one of my best friends from the get-go. Coined the term 'J Lee casual" and makes me laugh about something new every day. Performs the best "Mama Said Knock You Out" in the country. Alec has gone to bat for me and believes in me. And you need good friends and support to make it out here. Also, a new inductee to the Movado club, class of '06.
DAVID: At first glance, David seems very tough and unapproachable, which may be true. But once you get past the guard dogs, he's another genuinely nice guy. And he'll look out for you. In an industry that is filled with bullshit and fake people, David is loyal. And if he can help you, he will. Although he never did open the door for Thanksgiving dinner, he's still my pal. Moving on...
MIKE: Henbro! Read my first screenplay and I can say that he's one of the main reasons I view myself as a writer. I guess I thought he'd say it was the worst thing ever, but when he said that it was actually not that bad, it made me believe in myself. Even offered me his apartment when I was sleeping in my car. And, to top it off, he even kicked me in the nuts. (www.kickedinthenuts.com)
THE SOPHOMORE CLASS. Mike D/Anthony/Biggins/Travis/Katie/Woody and the FRESHMAN Spencer: These are the people that got hired around the same time I did so we've definitely been on the rollercoaster ride together. Mike is the only person I know that can piss everybody off in the office, but still be one of the most liked people around. Funny, smart mouthed, and sometimes rude, Mike has definitely made my days at work much more enjoyable. Anthony AKA Izzy Bizzy, AKA Sad Boy is another one of my potnas. Never wears jeans. Don't trust a man who never wears jeans...except Anthony. Biggins, 2 G's, 1/2 of the Two Man Crew, 1/3 of the New Rat Pack...man we definitely have had some good times and some good stories. He's also my consultant. Tre Bowe, AKA The Next Robin Williams (watch out for this guy!) Katie AKA Krentzshaw, was the first one to graduate and move on. I think I'm the second so I thank her for taking that step and letting the rest of us know that there is life after F Geezy. Woody AKA Hollywood, quiet but funny as hell. Co-creator of the funniest show you'll probably never see: The Balls and Boner Show. Spencer Porter, aka Sporter, is also, hands down, no questions asked, my dog.
5700 LADIES: Shannon, Brandi, Karin, Kara, Kim, Brandee, Caitlan and Amanda, Liddane, Suzy, Laura, Sharon, Annie, Diana, Frostie, Debbie, and Linda AKA La La. Without these women I would have never : Been hired, done a voice over for the show, made a movie, had my headshot up on the wall of fame, used the word 'DIVA', Learned how to listen, picked up a tabloid magazine, eaten Wokano, and uttered the word fabulous.
THE WRITING STAFF: Tommy D, Patrick, Hentemann, Cherry, Alex, Steve, Danny, Wellesley, Dave, Veen Dog, Scully, and Rich. I don't know if I've ever been around a group of people that made fun of any and everything imaginable. From race to looks to pop culture to a bunch of songs written by artists that I have never heard, they are on top of it all. And you've got to be on point because if they catch you slipping, you will definitely be at the butt end of a whole lotta jokes. But these guys are the machine behind Family Guy. Without them, well the show would probably still go on, (insert the sophomore class) but they're still the ish. Tom Devanny secretly wants to marry a black woman.
THE HOMIES: TTC, Coach Andrew (good luck on your marriage sir) Dom, Brian, Purdam, The Owl, Artie, Jason, Peter, Brent, Rob Rob, Tom D, Chewbacapitts, Brad - Default, Obiron, Mick, Mike, Zac, J Stew, Mark, Vaux, Ed, Burrell, Tauke to me, Mike E. Eric Brown, Chili, Luckett, P Shin, James, Wyll, Sean
Once Halo started, I stopped seeing sunlight. Just looking back at this list, I can say that I made a lot of friends here at FG. And these are people that I would love to keep in touch with even after FG.
MIKE, MATT, AND AMERICAN DAD: O'Shamus McPherson is born and you better bring him back! But honestly, Mike Barker was black in another lifetime and he's definitely looked out for me. Matt always calls my bet no matter what I have because he thinks I never have a good hand. Let me know when we're playing poker. Now that I'm not working anymore, I'd love to suppliment my income with residuals and all in bets called by Weitzman, Natch, and McKenna when I have the nuts. Holla at your boy.
So, it's time to say goodbye to all my Negroe friends. And this wouldn't be a blog if I didn't leave you with some words of wisdom from the most scholarly of the scholarly. Stay in touch and stay black!
"I gotta testify, come up in the spot lookin' extra fly.
'Till the day I die, I'mma touch the sky"
-Kanye West
"Ain't nobody f****n with me man,
He-man, ski mask
Spendin next week's cash, he's fast.
And I don't even need a G pass, I'm past that.
I'm passin' 'em out now. And you can't have that"
-Lil Weezy
"Paparazzi spots me in the lobby of my high rise
I hide, behind my shades , 'cause the fame is blinding my eyes"
-Jay Z
"All that we are is the thought of what we have become"
-unknown